December 15, 2016
Establishment of the new company, "NTT TechnoCross Corporation" and integration of solution business to enhance media related business
NTT Software Corporation
NTT IT CORPORATION
NTT Advanced Technology Corporation
NTT Software Corporation (hereinafter called "NTT Software"; Head office: Konan, Minato-ku, Tokyo; President and CEO: Shinichi Yamada) and NTT IT CORPORATION (hereinafter called "NTT IT"; Head office: Naka-ku, Yokohama-shi, Kanagawa; President and CEO: Masahiko Hase) will be merged into the new company, "NTT TechnoCross Corporation" (hereinafter called "NTT TechnoCross") at April 1st, 2017 to enhance solution business using technology of media processing such as audio and visual one and intelligent processing such as AI (hereinafter called "media related"). In addition, NTT TechnoCross will integrate audio and visual business of NTT Advanced Technology Corporation (hereinafter, "NTT-AT"; Head office: Kawasaki-shi, Kanagawa; President
and CEO: George Kimura) to further strengthen the related business.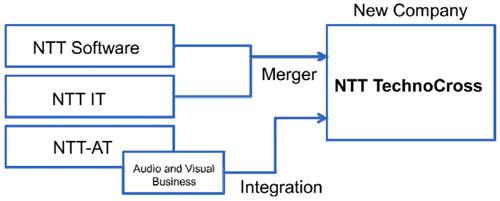 NTT TechnoCross will consistently provide leading-edge solution services using advanced technology and research achievements by NIPPON TELEGRAPH AND TELEPHONE CORPORATION (hereinafter called "NTT") while sustaining an ongoing business undertaken by each company. NTT TechnoCross will comprehensively support its customers to enhance their competitiveness, and contribute to their sustainable growth by gathering technology, know-how and human resources of each company, and generating synergy as a partner trusted by its customers
Overview of the new company
Company name
NTT TechnoCross Corporation
Date of establishment
of the new company
April 1st, 2017 (Planned)
Head office
Shinagawa Grand Central Tower.17F
2-16-4,Konan, Minato-ku,Tokyo, Japan 108-8202
(Currently, the head office of NTT Software)
Derivation of the new
company name
The new name is derived from the idea that the new company will provide
valuable solutions by crossing (Cross) advanced technology (Techno)
including NTT research achievements.
Merger type
Absorption-type merger that NTT Software is a company surviving absorption-type merger. NTT IT will be dissolved.
Important decisions ahead
Important matters including the president and CEO, the board members and the detailed business outline of NTT TechnoCross will be decided accordingly toward April 1st, 2017, the date the new company is established.
Reference: Overviews of each company
NTT Software
Company Name
NTT Software Corporation
President and CEO
Shinichi Yamada
Head Office
Shinagawa Grand Central Tower.17F
2-16-4,Konan,Minato-ku,Tokyo, Japan 108-8202
Capital
500 million yen
Employees
1,463 (As of the end of March, 2016)
NTT IT
Company Name
NTT IT CORPORATION
President and CEO
Masahiko Hase
Head Office
Kannai Waizu Bld. 4F, 2-9-1, Furo-cho, Naka-ku, Yokohama-shi, Kanagawa 231-0032, Japan
Capital
300 million yen
Employees
222 (As of the end of March, 2016)
NTT-AT
Company Name
NTT Advanced Technology Corporation
President and CEO
George Kimura
Head Office
Muza Kawasaki Central Tower, 1310 Omiya-cho Saiwai-ku, Kawasaki-shi,
Kanagawa, 212-0014, Japan
Capital
5 billion yen
Employees
1,821 (As of the end of March, 2016)
Contact info for inquiries of this news release
Contact info for inquiries from the press
NTT Software Corporation
Sales Promotion Department
Press and PR Group
Sakamoto, Kama
TEL: 03-5782-7040
NTT IT CORPORATION
Management Planning Division
PR Section
Shinozuka
TEL:045-651-7561
NTT Advanced Technology Corporation
Business Strategy Management Department
Corporate Communications Section
Kato
TEL:044-280-8823