May 17, 2017
English version of WinActor, a product of RPA tool, now available for desk work automation of foreign companies in Japan and overseas companies
NTT Advanced Technology Corporation (NTT-AT; Head Office: Kawasaki-shi, Kanagawa, Japan; President and CEO: George Kimura) on May 22, 2017 will begin marketing the English version of WinActor, a product that the company has been selling in Japan since 2014. This English-version makes WinActor accessible to foreign companies in Japan and overseas companies.

WinActor is one of the RPA*1 tools which have recently begun attracting attention from companies that are exploring ways of reforming working styles or improving work efficiency, and which have been introduced by a wide range of industries such as finance, distribution, and retailing.

In response to strong demand from our partner companies and customers, we have developed and will start offering an English-language version of WinActor.
*1) RPA: Robotic Process Automation
What is WinActor?
WinActor is a tool that enables users to easily automate operations on Windows® applications.

It can automate data input across multiple systems, a task that hitherto could not be performed without human intervention, resulting in a dramatic improvement in work efficiency.

WinActor is also effective for cases where different business systems cannot work together because they have been developed independently and, thus, there is heavy dependence on processing by workers; and for tasks that cannot be carried out efficiently by novice workers because even apparently simple tasks call for special skills.

WinActor can be used for a wide variety of tasks, irrespective of the industry or the size of the user company. Now that the English version is available, workers in offices overseas can access the various WinActor functions, which have been well accepted in Japan.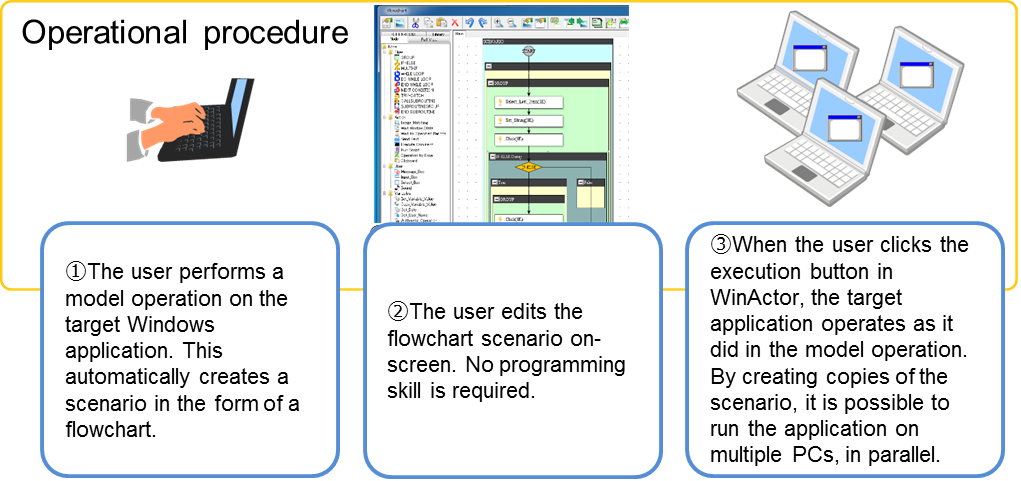 *WinActor is a product developed by NTT-AT based on NTT Laboratories technologies.
Introduction examples
Examples of introducing WinActor are listed below:
Inputting of sales order plan document data into a system (Data input labor reduced by 95%)
WinActor automatically inputs plan document data (Excel) into multiple in-house systems (electronic approval and a bookkeeping system).
Updating of product information on an e-commerce site and an SNS site (Updating of several thousand data items per month fully automated)
WinActor automatically reads product forms (Excel), inputs product information into the relevant e-commerce files and SNS files, and uploads these files.
Inputting of order slip data into a system and creation of order forms (Data inputting and order form creation labor reduced by 75%)
WinActor automatically inputs data from a large number of order slips into the order sales management system. In addition, it automatically retrieves data from the system, masks unnecessary information, and creates order forms.
Inputting of product request form data into a system and creation of result reports at retail chain stores (No labor needed for inputting product request form data and development of the management system)
Conventionally, the planning department collected product request forms from a number of stores. WinActor automatically inputs request form data into the management system at the time when each store inputs request forms into a specific folder. It also automates reporting of results to the planning department.
Inputting of development test data and creation of test certificates (Data inputting labor reduced by 95%)
WinActor inputs test data to relevant development system windows, evaluates transitions of those windows, and inputs evaluation results to a test certificate.
Future prospects
As a result of launching the English version, we expect sales of 300 million yen for fiscal 2017.

Note: Trade names and product names that appear in this document are registered trademarks or trademarks of the respective companies.
Contact info for inquiries of this news release
NTT Advanced Technology Corporation
Katsura Shioi
Tel: +81-44-589-5894