Multilingual Speech Database(World City Names)
Suitable speech datasets for the research on language identification and performance evaluation for speech recognition terminals.
Benefits / Features
Features
Unique and practical database for speech recognition systems!
All, 21 diffrent languages, are spoken by native speakers. World known city names where a International Airport is located.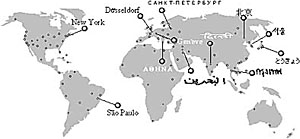 Specifications / Details
Specifications
Talkers
Maximally, 168 speakers *articulate the same city names according to their native pronunciation.
Their native languages are;
American English, Arabic, Chinese (Mandarin), Dutch, English (British), Finnish, French, German, Greek, Hungarian, Hindi, Indonesian, Italian, Japanese, Korean, Polish, Portuguese (Brazilian), Russian, Spanish, Swedish, Thai.
For each language, 4 male and 4 female speakers were allocated.
City Names
Two hundred famous cities where international air ports are located.
Speakers articulate the same set of 200 city names according to their own native pronunciation.
*Note: Since some material was omitted due to faltering pronunciation, the number of talkers is about 20 less than this number for some cities.
Recording conditions
Conforming to the ITU-T Recommendation P.80.
Digital recording and editing machines were used. (The same as our product "Multilingual Speech Database for Telephonometry 1994".)
Media
All speech signals are recorded on CD-ROM disks as the PC binary files (little endian Byte order)
Sampling Rate: 16 kHz
Amplitude resolution: 16 bits
Clients can retrieve the quantized speech signal by PC with a CD-ROM drive.
Notes:

The files in the CD-ROM disks are not in the Windows wave format; clients can not reproduce them by the ordinary PC sound board without a format conversion. The files also can not be played back as an audible signal by a commercial CD player.
Price
| | |
| --- | --- |
| Multilingual Speech Database(World City Names) | Please contact us. |

RELATED PRODUCTS
---