NETWORK CONSULTATION

Propose the best network solution based on the NTT Group'sexperience and expertise.
Features
NTT-AT's network experts can help you to consider all sorts of issues, such as network design, network assessment network operation and network optimization, and so to develop better services and to increase your customers' satisfaction.
Our core strengths are the long-term experience of the NTT Group, one of the world largest telecom carriers, and the technologies from the NTT Group's world-leading R&D in telecommunications.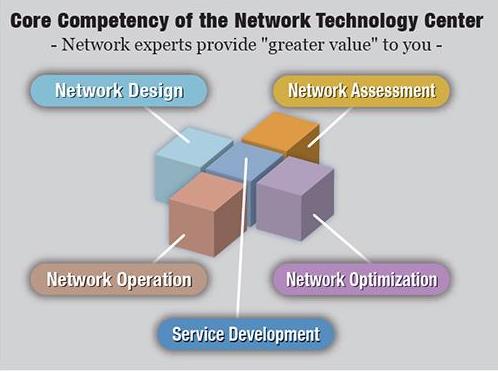 Identify Network Issues

Our experts carefully assess your service-providing network to identify what kind of issues there are which are relevant to improving of the services.
Propose the Best Solution

We analyze all of the issues in order to propose concrete and practical solutions for better network operation and service.
Maximize Customer Satisfaction

We create the best value with our solutions and recommendations, so that you can maximize your customers' satisfaction.
Consulting service menu
Consultation areas
For network service providers
Network Design
Overall network design/architecture
Network elements deployment
Network Assessment
Qos/QoE evaluation
Traffic analysis
Operation
Operation organization/workflow
Network Operation Center
NOC design/construction/improvement
Service Development
Developing services for revenue increase
For enterprises
Network Optimization
Cost optimization in each lifecycle stage of an enterprise's network
Examples of Consultation Package
| Package | Keywords |
| --- | --- |
| IPv6 Consulting | Exhaustion of IPv4 addresses, IPv6 validation, IPv6 migration |
| Improvement of the IP network operation | Operation system/organization, Operation workflow, OPEX reduction |
| Operation training | Crisis management, Risk management, Operation Engineers' skill improvement |
| Prevention of large-scale IP network failure | Laege-scale network failure, Minimization of congestion |
| Quality assessment | QoS(Quality of Service), QoE(Quality of Experience) |
Comparison with other companies' products
With the background of the advanced technologies and extensive experience of the NTT Group, which is one of the largest network operators in the world, NTT-AT provides a consultant service from the viewpoint of an operator.

Past record
NTT-AT has extensive experience in providing high-quality network consultation in Japan and foreign countries for more than 40 years.
Our network consultation service covers the areas as the followings.
Assessment of current network
Identification of network bottlenecks
Optimization and improvement of network performance
Improvement of service quality (QoS/QoE)
Improvement of operation system
Development of training programs
| | | |
| --- | --- | --- |
| Network Consultation Pamphlet | 278KB | Download |
---