Nano Imprint Resin

The adhesive technology used in optical communications is one of the key technologies
Features
Nano imprint lithography
Nano imprint lithography is the next generation process technology. The simple and low cost fabrication technology enables nano-scale patterns. High refractive index, UV curable, nano imprint resin provides highly functional fine patterns.
High Accuracy
UV curing nano imprint lithography achieves high accuracy without high temperature processing.
Characteristics of Resin can be Customized
By modifying the composition of UV resin, the characteristics can be customized.
High Light Transmittance
Although the refractive index of the material is high, the resin has a high light transmittance around a wavelength 450nm or above.

Specifications / Details
Specifications
Item
Test method : Condition
Unit
#18210
Before curing
Viscosity
E-type viscometer : 25°C
mPa·s
15
Curing Conditions
Pre Baking Conditions
-
-
115°C 1min
UV Curing Conditions
-
-
100mW/cm2 5min
After curing
Refractive Index(nD)
Prism coupler: 25°C
λ=403nm
1.77
λ=633nm
1.72
λ=848nm
1.71
Abbe's number
Abbe refractometer : 25°C
-
30
Tg
Differential scanning calorimetry
°C
108
Transmittance
Spectrophotometer: Sample Thickness:2μm
λ=450nm
%
94
λ=540nm
95
λ=630nm
95
Optical Transmittance and Pattern Accuracy
Optical Transmittance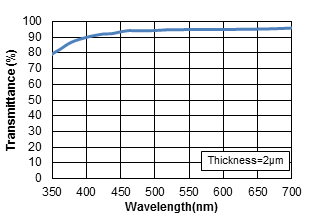 The resin has a high optical transmittance around a wavelength 450nm or above.
Pattern examples
I'm sorry; your browser doesn't support HTML5 video in MP4 with H.264.

Hologram




Pillar pattern




Pillar pattern




Hole pattern




Line and Space pattern
Related Products
Optical Adhesives



High Refractive Index / Low Refractive Index Resins




*All company names, product names, etc., indicated herein are trademarks or registered trademarks of each respective company.
*Please understand that all comments and data recorded herein may be subject to change without prior notification.
---