NTT-AT's Robotic Process Automation Software
An RPA tool that automates repetitive input tasks, saving time and reducing input errors


Inevitably, many offices using multiple systems copy information between systems manually. This kind of work often comes up when it's especially busy.
But there's a way to avoid this.
The time is right to automate this work instead of doing it manually.
Contact us/Request more information
Introducing Robotic Process Automation Software
The RPA*Software automates computer tasks. Various repetitive input tasks can be automated by recording them and creating scenarios, including database entry/revision and input tasks for order taking, as well as data conversion.
*RPA:Robotic Process Automation
Think a task has to be done manually? Think again.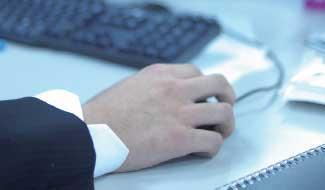 Examples of automatable tasks
Automatic generation of job orders for construction work
Data entry automation for order-taking system
Automatic addressing of direct mail
Billing that involves customer-specific discounts
Impressive results
Slashed from 8 hours to 10 minutes!
For input in an order-taking system, a workflow now takes 1/50th the time: order reception → list generation → system input → shipping arrangements.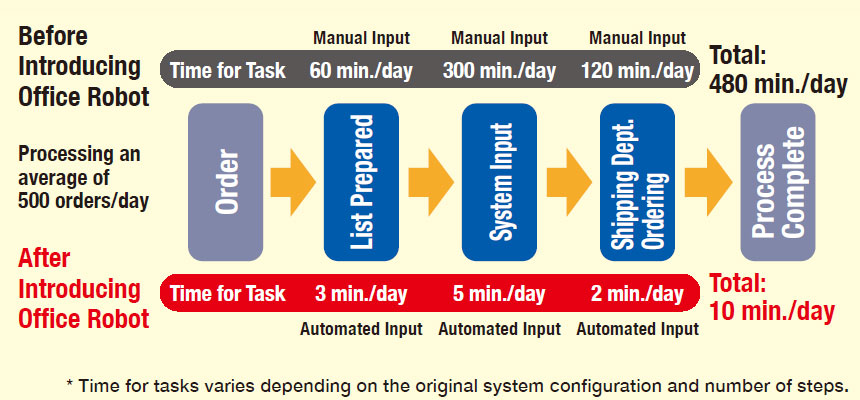 Slashed from 40 to 10 man-hours per day and error rates reduced from 0.3% to 0.0%!
For billing that involves client-specific discounts, input was automated in a workflow involving visual confirmation to apply discounts. The work now takes 1/4 the time and reduces the number of people required from five to two.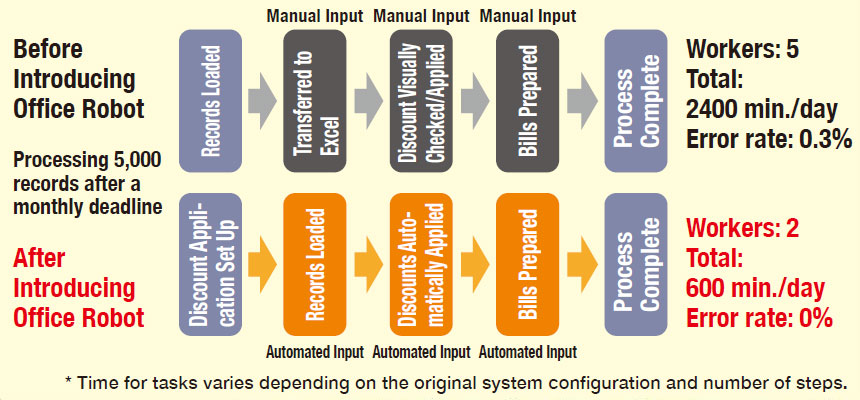 Example when used in billing with customer-specific discounts
Contact us/Request more information

Demonstration Videos
Overview/Advantages
Quickly repeats tasks of expert workers after recording them
Simply record a computer task performed by an expert worker, then execute the process again as needed. Robotic Process Automation Software accurately reproduces their work. High volumes of work can be done in less time, streamlining production dramatically.
Convenient-simply choose a scenario
Can be used with data in various formats. Just create a scenario for your data, then select the scenario you need. Scenarios are also easy to revise, with no special programming knowledge required.
Reduces errors that occur in simple work
Since it makes it possible to automate selection of data destinations and the data entered, based on source data information, Robotic Process Automation Software easily adapts to a range of data entry work while eliminating the input errors that are unavoidable with manual input.
Contact us/Request more information

Examples/Success Stories
Using Robotic Process Automation Software in a single order-taking process saved 900,000 yen annually.
Exeo Tech Corporation (formerly Ikeno Tsuken Co., Ltd.)
Exeo Tech specializes in electrical and telecommunication construction and maintenance. Before introducing Robotic Process Automation Software, in order to complete work within the construction period, the company needed to ensure that engineering job orders were issued to engineers efficiently and without omission for orders received every day from Nippon Telegraph And Telephone East Corporation. However, the multiple applications involved made this computer work complicated, resulting in both oversights and overtime. To eliminate all these issues in one stroke, the company deployed the Robotic Process Automation Software. This success story details how the tool improved work at Exeo Tech.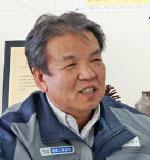 Executive Officer, Exeo Tech Corporation
Manger, Saitama Branch
Shinichi Ishihira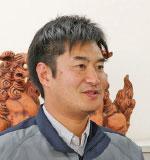 Access Division, Exeo Tech Corporation
Design Section Chief, Service/General Construction
Naohiro Ishizuka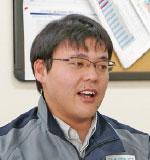 Access Division, Exeo Tech Corporation
Design Representative, Design Group
Tomoyuki Sakurai
Sample automation scenarios
Robotic Process Automation Software is flexible and customizable, yet remains easy-to-use and requires no special programming knowledge. From job orders in construction work to auto generation of customer direct mail, it's useful across a wide range of applications.
Automatic generation of air conditioner installation job orders
After loading desired installation dates from a customer list data, Robotic Process Automation Software automatically transfers information found in a CRM database, like addresses and telephone numbers.
Using maps available online, Robotic Process Automation Software can even load maps of the neighborhood and paste them into job orders automatically.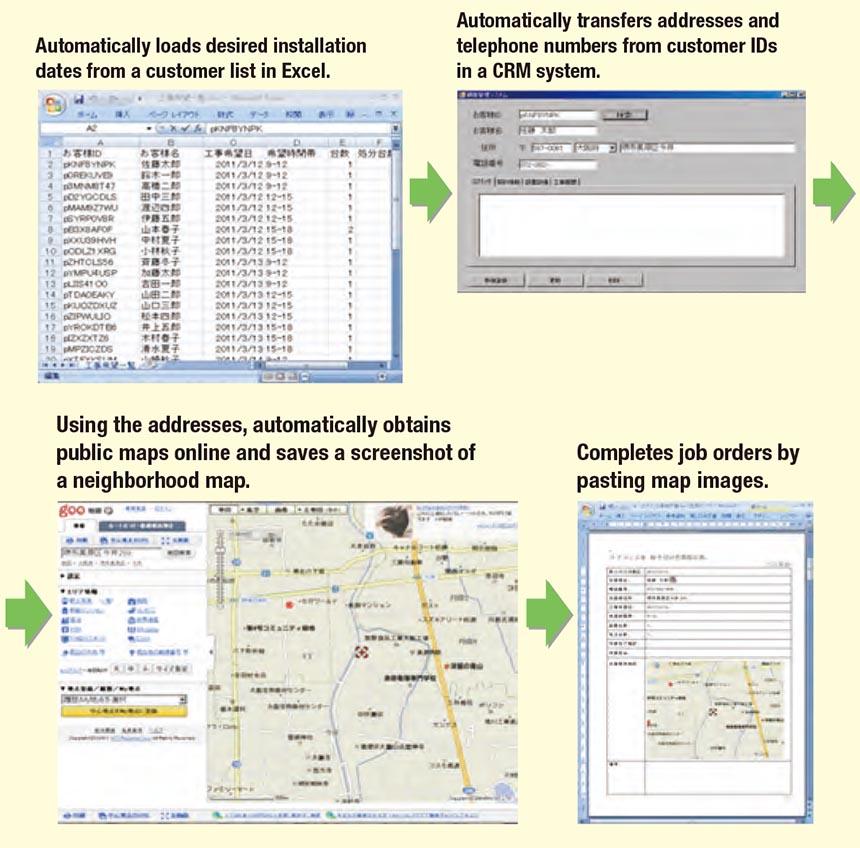 Automatic addressing of direct mail (including customer filtering by purchase history)
Used in conjunction with addressing software, Robotic Process Automation Software automates the registering and drafting of direct mail to notify customers of sales or promotional campaigns.*
Enables fast, fine-grained CRM even with large customer databases, because recipients can be restricted (for example) to customers who have spent at least a certain amount in their purchase history.
Naturally, Robotic Process Automation Software also significantly streamlines other computer tasks, like generating estimates and invoices.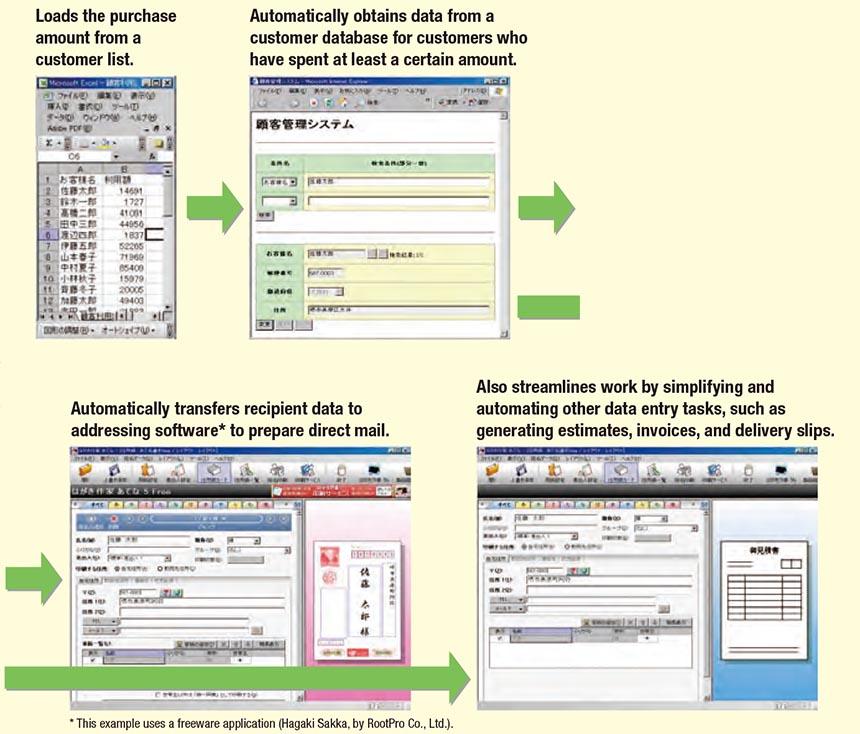 Contact us/Request more information

Details/Specifications
Specifications
OS
Windows 7 SP1 (en), Windows 8.1 (en), Windows 10 (en)
Compatible software
Microsoft Office 2010, 2013, 2016

*when linked with Office

Compatible browsers
Internet Explorer 11

*when using template generation

Recommended CPU
x86 bit or x64 bit with 2.5GHz or higher
Storage
3GB of free space or more
Memory
2GB or more
Monitor
1024×768 or higher resolution
Pricing
| | |
| --- | --- |
| Robotic Process Automation Software | Contact us for details. |
Download Brochure
| | | |
| --- | --- | --- |
| Robotic Process Automation Software brochure | 811KB | Download |
---
---