Polyimide Waveplate
Thin waveplate makes it possible to have excellent high density packaging and small insertion loss for PLC.
Benefits / Features
Made from polyimide, which has excellent heat and environmental resistance and is well suited to device mounting.

Features
Low insertion loss
Heat resistance up to soldering temperature
Any size or shape
Suitable for optical waveguides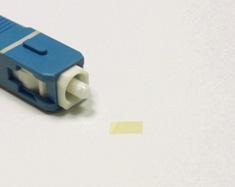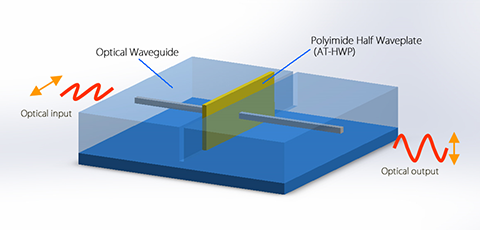 Polarization mode converter with Polyimide Half Waveplate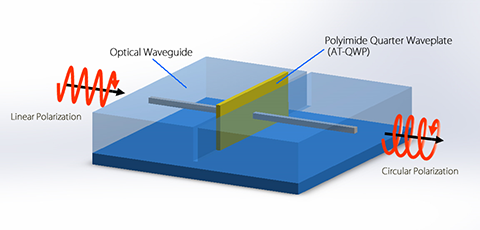 Circular polarizer with Polyimide Quarter Waveplate
Applications
Eliminates PLC polarization dependency
Converts TE(TM) mode to TM(TE) mode. Eliminates polarization dependency of AWG* and directional couplers.
* AWG: Arrayed-waveguide grating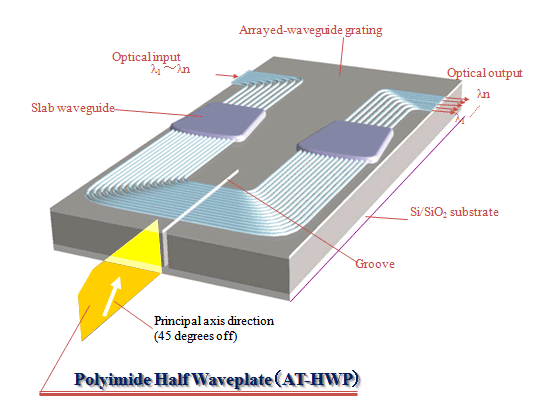 Optimal for over 100 Gbps high-speed phase modulation devices such as DP-QPSK and for AWG use.
Example of PBS Optical Circuit Application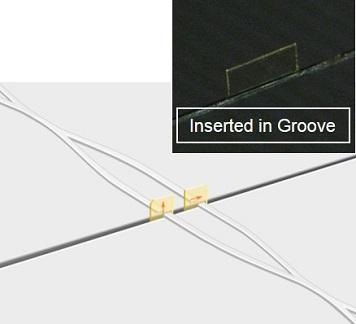 Many small waveplates with defferent direction of light axes can be inserted between extremely narrow gaps on integrated light circuits, shown in an image.
Application Examples of Wavelength Selective Switch at Front-End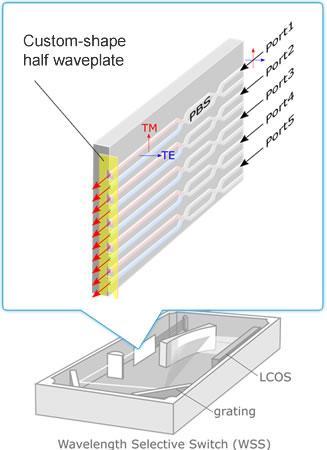 Configuration Image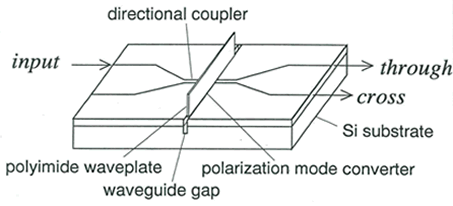 Fig.2 Insertion loss spectra (a) before and (b) after inserting AT-HWPinto the waveguide gap.

Y. Inoue, H. Takahashi, S. Ando, T. Sawada, A. Himeno, and M. Kawachi, J.LightwaveTechnol. 15, 1947 (1997).
Specification
Consultation is available to customize size, wavelength and thickness.
Retardation
1/2λ
1/4λ
Optical Extinction Ratio
≥25 dB (@Wavelength:1.55 µm)
=0±1dB (@Wavelength:1.55 µm)
Optical Axis
Specified Axis ± 1°
Thickness
15 ± 2 µm
Size
0.25×0.25 ~3×5 ±0.05 mm The shape and size is negotiable.
Measured by NTT Advanced Technology Corp.
* Designs and specifications are subject to change without notice.
Brochures
---