Compact Supercritical Dryer
For Preventing pattern collapse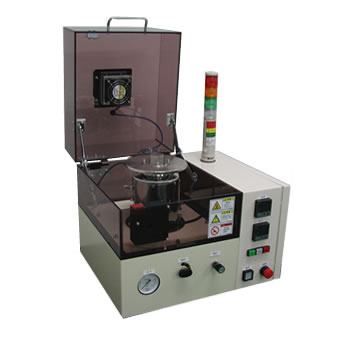 A pattern collapses when liquid surrounding the pattern in various fabrication processes dries up.
Supercritical drying can prevent the pattern collapse.
Compact Supercritical Dryer Inquiry
Benefits / Features
Novel supercritical process
The new solvent; non-flammable, and low-toxic fluorocarbon liquid (HFE), which is different from conventional high-pressure CO2 gas, is used as a supercritical material.
Critical pressure of HFE is about one-third of that of CO2. It enables the downsizing of system.
High zeta potential of HFE avoids particle adhesion.
Simple operation
Process is started by only pushing a start button after filling the chamber with HFE.
No additional high-pressure gas cylinder is necessary.
Space saving
The footprint is less than 1m2 , e.g., for laboratory use.
Easy Customization
Simple device configuration enables customers to design the chamber with a various size.
Safety devices
High safety is maintained by a door lock system, an overheat protector, safety valves for overpressure, etc.
Specifications / Details
Specifications
PCO-4SC
For laboratory use

typical process pressure : 2.6 MPa
typical process temperature : 473 K
chamber capacity : around 60 cc
overall size : W 500 x D 400 x H 470 mm
The effect of supercritical HFE drying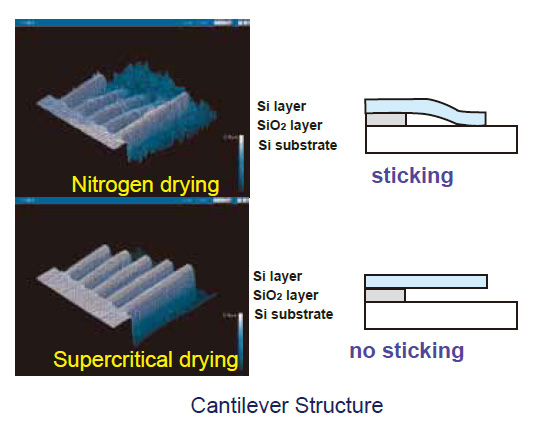 Documents
Pamphlet
| | | |
| --- | --- | --- |
| Compact Supercritical Dryer | 338KB | Download |