Reflective DOE (Diffractive Optical Element)
Beam Shaper for High Power Lasers over 10 kW
What NTT-AT can offer:
Applicable to high power lasers over 10 kW.​

Customized design and fabrication according to each customers' requirements: Design can be customized based on wavelength, incident beam shape and size and output beam shape.
​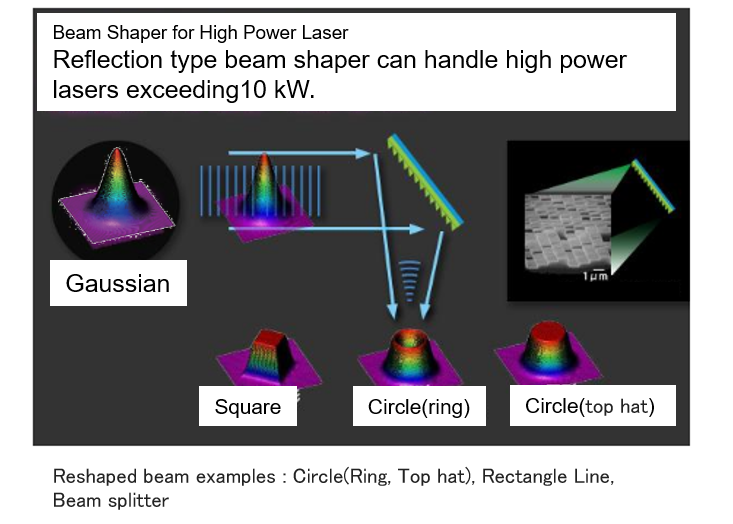 ​

Why Reflection type beam shaper is recommended for high power application:
Directly water cooled on its back side

Construct the designated beam shape even if the incident laser power exceeds 10 kW.

Unlike Transmission type DOEs, there is no beam distortion since there will be no accumulation of the light absorption





Target Applications:
Laser cutting

Welding

Drilling

Patterning

Annealing

Ablation
SEM micrograph of the beam shaper surface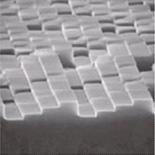 Spec examples
The following specifications are examples. NTT-AT will design and fabricate beam shapers according to the customers' requirements. Please contact us.
 Item

 Specifications (examples)

 Intensity Distribution Shape

 Gaussian→Square(Top hat)

 Wavelength

 1064nm

 Laser Power

 ~10 kW*

 Incident Beam Diameter

 30 mmφ

 Incident Angle

 45°

 Cooling Wafer : approx. 1L/min

 300W

 Size

 40 mm x 40 mm x 0.5 mm

 Material

 Si, SiC

 Light Collection Efficiency

 Without lens : 70%
With lens : over 95%
Please contact us for other materials such as quartz and sapphire.

Mount jig is also available as option.

For laser power over 10 kW, please contact us.
Catalog
| | | |
| --- | --- | --- |
| Reflection type DOEs (Diffractive Optical Element) Catalog | | Download |