Low-Noise MEMS Accelerometer
MEMS Accelerometer Device with An Ultra-Low Noise of 300 nG/√Hz Is Realized.
Features
Innovative structure,*1 capacitive sensor using a multi-layer gold proof-mass, tremendously suppresses the noises of the whole device.*2
*1 T. Konishi et al., Jpn. J. Appl. Phys., Vol. 52, No. 6S, 06GL04 (2013).
*2 D. Yamane et al., App. Phys. Letters, Vol. 104, Issue 7, 074102 (2014).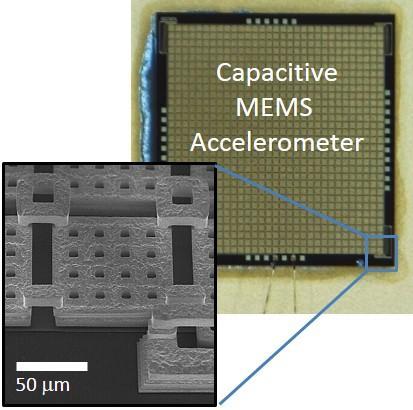 Sensor Chip's technical information is shown below. We also provide sensor modules and packages on customers' requests.
Technical
Detection range: +/-0.5G, +/-2G, +/-4G, +/-16G
MEMS sensor device chip size: < 4 mm x 4 mm x 0.6 mm
MEMS sensor device noise density: < 300 nG/√Hz
To be applied to
Medical: Human body motion monitoring
Factories/plants/transportations: Oscillation monitoring of plants and machines for early failure detections
Infrastructures: Critical structures like bridges, tunnels and railroads
Aerospace: Satellites, airplanes, and others
---