Optical connector cleaner, NEOCLEAN®

The pioneer in optical connector cleaners
NEOCLEAN®-M2 Pen Type Cleaner NEW PRODUCT!!
NEOCLEAN

®-M,

NEOCLEAN

®-M2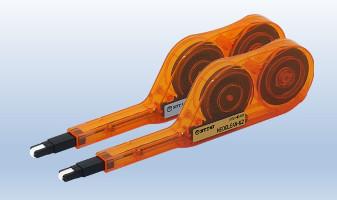 Instantly clean MPO connectors with a simple push



Many troubles in optical communications equipment are caused by contamination on the optical connector end face.

NEOCLEAN-M series, the MPO/MTP connector cleaners, employ microfibers designed specifically for optical connectors to remove even the smallest contamination not visible to the naked eye. Please take advantage of the improvements you will receive in optical construction working efficiency and in communication services reliability.

MPO connectors of 1 row with 12 core and 2 rows with 24 core are common, and the MPO-16 expanded to 1 row with 16 care has been introduced, and so the importance of cleaning is also increasing.

The NEOCLEAN-M for 12-core systems and the NEOCLEAN-M2 for 16-core systems respond to the need for endface cleaning.
Features
One-push operation with no special skills required



The specially designed microfibers remove contaminants by an easy push operation without damaging the delicate optical fiber core.
Compact design with workability in mind



Brings you the possibility of over 600 cleanings in a very portable compact design that excels in workability.
Compatibility for both plugs and adaptors in one unit



In addition of optical port adaptors, attaching the cap (included) allows you to also easily clean plugs too.
Complies with RoHS Directives


| | |
| --- | --- |
| | |
| Cleaning an adaptor | Cap attached for cleaning a plug |
Specifications
Product Name

NEOCLEAN

-M

NEOCLEAN

-M2
Model

ATC

-NE-M1

ATC

-NE-M2
Compatible Connectors

MPO,

MTP

®

MPO

-16,

MTP

® -16
Compatible End Face
Flat and 8 degree slant (compatible with or without guide pins)
Size(mm)
Main Body
197L×15W×51H
197L×15W×51H
With Cap Attached
208L×17W×51H
204L×15W×51H
Standard Usages
Over 600 times
Cleaning Performance
| | |
| --- | --- |
| | |
| Before Cleaning | After Cleaning |
NEOCLEAN

®-EZ Pen
Features
One simple push action cleans optical connector ferrule end face.
Especially compact body designed for cleaning in the narrow spaces of optical connector ports. Fixing the attachment to the rear end allows you to also clean the deep recessed optical ports.
Simply remove the front tip cap to enable optical plug cleaning.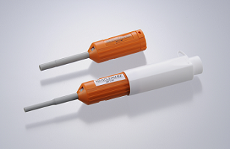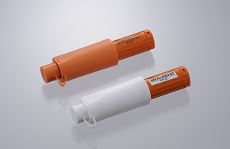 NEOCLEAN
-EZ1,
NEOCLEAN
-EZ2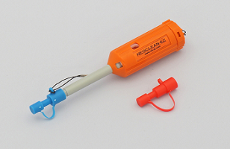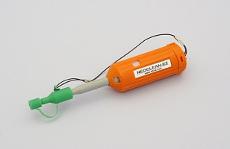 NEOCLEAN

-EZv

NEOCLEAN

-EZv cleans the φ2-mm optical connector in the hybrid electrical and fiber-optic connector for the broadcast cameras.The new "NEOCLEAN-EZv" is developed exclusively for broadcasting and video connectors, which allows an easy cleaning without troublesome work such as attaching and detaching the split sleeve inside the connector.



NEOCLEAN

-EZ3

The "NEOCLEAN-EZ3" can clean 2.5mm optical connector ports with its main body, and clean plugs by using the included blue attachment. Furthermore, if you attach the red attachment you can also clean 2mm video connectors.

NEOCLEAN

-EZ1 Plus

The

EZ1P

lus can clean 1.25mm optical connector ports and

ODC

plugs using the main body. In addition, you can clean plugs and

ODC

sockets by installing the included green attachment.

Specifications
Product Name

NEOCLEAN

-EZ

EZ1

Plus

EZ1

Model No.

ATC

-NE-EZ1P

ATC

-NE-EZ1
Compatible Connectors

ODC,LC,MU,

1.25mm Ferrule Connector

MU,

LC
Compatible Ferrule
Length (mm)
Main Body
107
104
With cap attached
113
115
With extension
-
170
Cleaning Area
Φ0.5mm
Product Name

NEOCLEAN

-EZ

EZ2

EZ3

EZv
Model No.

ATC

-NE-EZ2

ATC

-NE-EZ3

ATC

-NE-EZv
Compatible Connectors

SC, SC2, FC, FAS

*

1

, FA*

1

SC, FC, ST, E2000,



φ2.0mm ferrule Connector for

HDTV

*

2

φ2.0mm ferrule

Connector for

HDTV

*

2

Compatible Ferrule

PC, APC

Length (mm)
Main Body
104
109
With cap attached
115
121
With extension
170
-
-
Cleaning Area
Φ0.8mm
Φ0.6mm
*1 Use the provided attachments

*2 Tested Hybrid Connector

LEMO SMPTE

304M connector, Tajimi

OPS

/

OPC

series, Canare OC series, FC series. For other type of connectors, please contact us.




Optical connector cleaner,NEOCLEAN® Inquiry
NEOCLEAN

®-E Pen Type
Features
Simple one push action cleans ferrule end face in device adaptors. The cleaning cartridge is replaceable, with each cartridge performing about 750 cleanings, greatly reducing cleaning costs.
Using the attached cap you can also clean ferrule end face in plugs.
Specifications
Product Name

NEOCLEAN

-E
E1
E2
E3
Model

ATC

-NE-E1

ATC

-NE-E2

ATC

-NE-E3
Applicable Optical Connectors

MU,

LC
(PC/APC)

SC,SC2, FC, FAS,

FA
(PC/APC)
SC, FC, ST, E2000
(PC/APC)
Standard Usages
Over 750 times
Length (mm)
240
230
230
Replaceable Cartridge (3units/set)
Model

ATC

-NE-ES1

ATC

-NE-ES2

ATC

-NE-ES3
Optical connector cleaner,NEOCLEAN® Inquiry
NEOCLEAN

® Reel Type
Features
Optical Connector Cleaner NEOCLEAN® wipes away contaminants from optical connector end face with ease. Just as with our previous products, the cleaning tape does not produce dust, and provides special cleaning strength while resisting foreign particles to mix into the tape. The main body also is made from anti-static material.
The tape advance mechanism has been simplified, reducing the number of assembly parts to a minimum resulting in cost reductions for both manufacturing and assembly.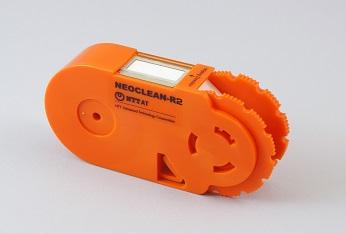 Specifications
Name

NEOCLEAN

®-R2
Model

ATC

-NE-R2
# of Cleanings
More than 400 times (tape cannot be replaced)
Dimensions
W 115mmm × H 55mm × W 25mm
Optical connector cleaner,NEOCLEAN® Inquiry
NEOCLEAN

®-S Stick Type
Features
The NEOCLEAN® stick is made with antistatic materials enabling it to control the generation of static electricity during the cleaning process. And just as with the reel type, the cloth in the cleaning part is made from special cleaning fiber.

Useful for cleaning connector end face inserted into adaptors and housings.
Specifications
Name

NEOCLEAN

® S125

NEOCLEAN

® S250
Model

ATC

-ST-01N

ATC

-ST-02N
Compatible Size
1.25 mm type
2.5 mm type
Stick Length
Max. 152mm – Min. 45mm
Package
250 sticks/box
Optical connector cleaner,NEOCLEAN® Inquiry
Documents
Technical Document

"Why do I need to clean and inspect the end face now?"
Distributors of Optical Connector Cleaner Series
Optical Connector Cleaner Safety Data Sheet
RoHS Compliant Products List

REACH

Compliant Products List
---