High Refractive Index Resins for Nanoimprint
High RI, UV curable nanoimprint resins provide highly functional fine patterns with high accuracy.
About Nanoimprint
The simple and low cost fabrication technology enables nano-scale patterns.

Features
High Refractive Index
>1.7 at 633 nm. It helps to miniaturize optical components.
High Transmittance
lthough the refractive index of the material is high, the resin has a high transmittance above 400 nm.
Choose Solvent-contained or Solvent-free
Solvent-contained #18210 is good for making thin film (< 1 um). Solvent-free, #18247 enables making the layer thicker (>2-3 um).

Details
Properties
Item
Test method : Condition
Unit
#18210
#18247
(start selling from April in 2019)
Solvent
PGME
N/A(Solvent Free)
Before curing
Viscosity
E-type viscometer : 25°C
mPa·s
15
138
Curing Conditions
Pre Baking Conditions
-
-
115°C 1min
-
UV Curing Conditions
UV Flood Lamp
: Intensity at 365 nm
-
100mW/cm

2


5min
100mW/cm

2


1min
After curing
Refractive Index
Prism coupler: 25°C
λ=403nm
1.771
1.765
λ=589nm
1.725
1.710
λ=633nm
1.720
1.704
λ=848nm
1.708
1.689
Abbe's number
Prism coupler: 25°C
-
31
24
Haze
Thickness: 50 μm
%
< 0.1
< 0.1
Tg
Dynamic Viscoelastometer : tanδ

max

°C
100
125

Shrinkage

Specific gravity method
%
6
7
Transmittance
Spectrophotometer: Sample
Thickness:
2μm (#18210), 50 μm (#18247) 
(including reflection loss)
λ=450nm
%
94
95
λ=540nm
95
96
λ=630nm
95
97
•Not specifications
•Storage temperature of #18210 and #18247 is 0 – 5 oC. #18210 is categorized in Dangerous Goods for the transportation

Feel free to contact us about customizing these resins.
More Features of #18247
Since #18247 doesn't contain solvent;
- Enables omitting a pre-baking process.
- Enables dispensing and pushing a mold and substrate together.
- No worry of solvent affecting the substrate. Even possible to make a bulk film without substrate.
- Easy to transport, as #18247 is not categorized in Dangerous Goods.
Optical Transmittance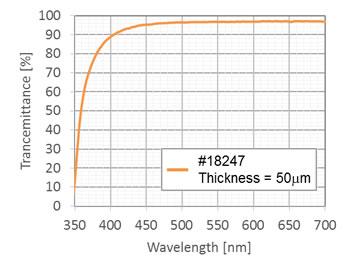 The resin has a high optical transmittance around a wavelength 450nm or above.
Pattern examples



Pillar pattern




Pillar pattern




Hole pattern




Line and Space pattern
Related Products
Optical Adhesives



High Refractive Index / Low Refractive Index Resins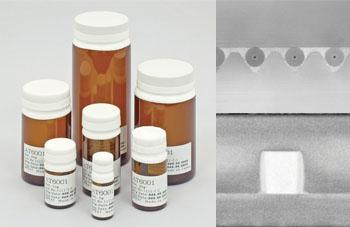 *All company names, product names, etc., indicated herein are trademarks or registered trademarks of each respective company.
*Please understand that all comments and data recorded herein may be subject to change without prior notification.

---