Portable Optical Connector Polisher POP-311
High speed portable polisher for field assembly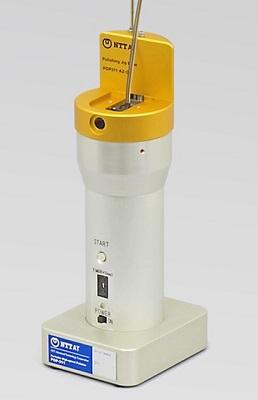 Distributors List
Benefits / Features
Features
The POP-311 is suitable for field assembly and/or re-polishing of optical connectors in optical network installation and/or its maintenance.
Battery operated
Widely accessible rechargeable nickel hydride battery (AA) or alkaline dry battery (AA) can be used.
High speed polishing
Polishes connectors at the high velocity of 700 revolutions per minute.
And with only 3-5 processes, work can easily be done on location.

From adhesive removal to AdPC Polish?⇒?150 seconds (SC connector/terminal)
AdPC polish by repolishing?⇒?50 seconds (SC connector/terminal)
(AdPC Polish: Advanced PC polish)
High Quality
High polishing quality equivalent to that of factory use polishers can be achieved.

Portable Optical Connector Polisher POP-311 Inquiry
Specifications / Details
Specifications
Main Unit Specifications
Application Uses
Optical Connector Polishing
(for re-polishing and new polishing processes)
Applicable
connector/ferrule
SC?MU?FC?LC?MT?
MTRJ type optical connectors, glass ferrule, and custom made orders
Polishing performance
Radius of curvature
10-25mm
Apex offset
< 50μm
Fiber undercut
< 0.05μm
Return loss
> 50dB
Weight
830g(main body without batteries)
Dimensions
90W×75D×212H(mm)
Optional Accessories (sold separately)
Power supply
Rechargeable Ni-H battery or Alkaline dry battery (AA × 4)
AC power adapter
(100-240V, 50-60Hz)
POP311-0-06
Polishing Jig Base
Universal Jig Base
POP311-AZ-00
Polishing Plate
For SC/FC
POP311-B-01S
-
For MU/LC
POP311-B-01M
-
For APC/Rough Polishing
POP311-B-02
For APC diagonal surface formation/for MT Ferrule
Attachments
For SC/PC ferrule
ATP3000-AZ01
For FC/PC plugs
ATP3000-AZ02
For MT 0° ferrule
ATP3000-AZ03
For SC/ APC-C ferrule
ATP3000-AZ04
For conical ferrule
For LC/MU/PC ferrule
ATP3000-AZ05
For LC/PC plugs
ATP3000-AZ06
For SC/PC plugs
ATP3000-AZ07
For LC/APC plugs
ATP3000-AZ08
For SC/APC-C plugs
ATP3000-AZ09
For conical ferrule
For FC/APC-C plugs
ATP3000-AZ10
For conical ferrule
(narrow key)
For FC/APC-S plugs
ATP3000-AZ11
For step ferrule
(narrow key)
For MT-RJ ferrule
ATP3000-AZ12
For MT 8° ferrule
ATP3000-AZ13
For Φ2.5mm V-grooves
ATP3000-AZ14
For Φ1.25mm V-grooves
ATP3000-AZ15
For ST/PC plugs
ATP3000-AZ16
For E2000 Ferrule
ATP3000-AZ21
For LC-Duplex
POP311-AZ-01
Case
Carrying Case
POP311-0-10
Consumables
Rubber Pads
For SC/FC
POP311-P-01
3 sheets of 1 type
For MU/LC
POP311-P-02
Polishing film
Type of film varies depending on the polishing process. Please consult with us regarding your needs
* Design and specifications are subject to change without notice.
Special features of the attachment exchangable type jig
| | |
| --- | --- |
| | |
| MT Connector Jig | LC-Duplex Jig |
* Attachments shown is the above photos are sold separately.
Since the attachments are also usable in the factory use polishing machine ATP-3000, they can be used in a wide variety of polishing work such as MPO connectors, and single-core fiber connectors, and all types of capillaries and fiber polishing.
MT Connector Polishing Process (Ferrule:12MT-PPS-SM)
Polishing performanc
RX(mm) >2000 ,RY(mm) >5,
Angle(degree) ±0.2
Fiber protrusion(μm)?1~3.5
Suitable for Re-polishing
When an optical fiber connector is damaged in the process of layout construction, it can be re-polished on the spot and renewed for usage.
MT Connector Re-polishing
| | |
| --- | --- |
| Before Polishing | After 30 sec. of re-polishing |
Brochures
Handy polishing machine

POP-311

0.6MB
Download
---