Robotic Fiber Switch ROME500

Are you still doing complicated patch panel connection by yourself?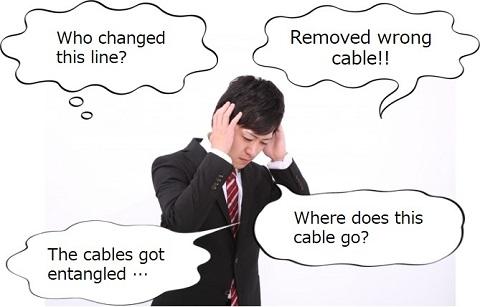 ROME (Robotic Optical Management Engine) is L1 switch, realizing optical connection automated by robot.

ROME enables smart operation for fiber management at data centers and laboratories.
Features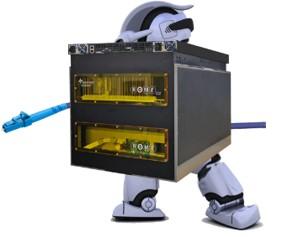 This is an image of robotic mechanism
ROME500 manages optical cross connection automatically by robotic mechanism.
Compared with MEMS and O-E-O methods, ROME500 has the advantage of low insertion loss and maintaining onnectivity in case of power outage.
Elegant Fiber Management
Manual connection in front of patch panel tends to bring complicated cabling.
ROME500 automated cross connection keeps well-ordered cabling around patch panel.
Robotic cross connection also avoids human error of wrong connection and removal.
Easy to Manage
ROME500 manages connection status and system operation history.Only authorized users can operate ROME, thus retaining the system security level.
Remote Cross Connections
ROME500 realizes remote cross connection without visiting data centers and laboratories.
Remote cross connection enables quite cost effective and eco friendly operation.
Specifications
Dimensions

Main Chassis
17.4"(442mm) Width,
17.5"(443mm) Height,
31"(791mm) Depth,
211lbs(95kg)
LCU※
17.5"(444mm) Width,
1.7"(44mm) Height,
27.5"(698.25mm) Depth,
24lbs(11kg)

Power Supply (per PSU)

Main Chassis
Supply from LCU

LCU

※
100-240V, 50/60Hz 4A or  -48/-60 V, DC 8A

Power Consumption

55W (standby), 155W (switching)

Fiber

512 Fibers

Fiber Type

Single Mode
SMF-28e
Multi-Mode
OM4
Insertion Loss

1.0dB Max (patch panel to patch panel)

0.5dB (Typical)

Return Loss

Single Mode

-50dB (UPC), -60dB (APC)

Multi-Mode

-25dB

Rack Size

Main Chassis

19", 10RU

LCU※

19", 1RU

MGMT Interface

RJ45(Ethernet)、DB9(Console)

UI/API

CLI、GUI
Use case
Laboratory Management
---