Rust Preventive Powder Coating
to prevent corrosion of metallic materials
NTT-AT's original rust preventive material is a thermoplastic powder paint that has improved acid and alkali resistance and suppressed UV deterioration. It is ecofriendly and advantageous for pollution control since powder paint does not need solvent disposal and is easy to be collected remnant material.
It does not require a primer even for galvanized materials, and it is easy to process and adheres well. These characteristics realizes excellent rust resistance in salt-damaged areas and various corrosive environments.

Excellent rust prevention (for 35 years or more) under all corrosive conditions including salt damage.
Improved acid resistance to volcanic ash, hot spring gas, etc. and improved alkali resistance to concrete, etc.
No primer required even on galvanized surfaces, but powder coating with excellent adhesion.
Characteristics

structure
| | |
| --- | --- |
| Corrosion resistance | No rusting or swelling in 6 months salt spray test |
| Weather resistance | No cracking or peeling after 10,000 hours of UV irradiation |
| Impact resistance | 80 - 120 cm (when 300 g load drops) |
| Abrasion resistance | 60 μm /1000 times |
| Adhesive strength | 80 kgf /cm2 or more |
| Low-temperature resistance | -40 ℃ |
| Surface hardness | F - H (ISO 15184) |
Corrosion resistance
Combined cyclic corrosion test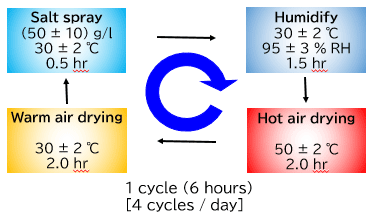 Combined cyclic corrosion test (ISO11997-1 Cycle D)
conditions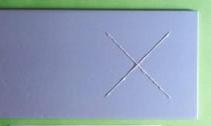 Combined cyclic corrosion test (ISO11997-1 Cycle D)
after 330 days

Exposure test along the coast on an island (since Dec. 1999, ongoing; Picture represents the status after 11 years)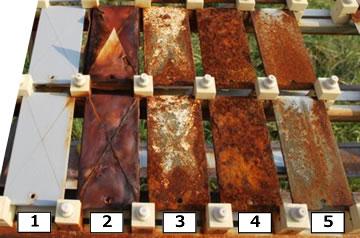 NTT-AT's original rust preventive material

Polyethylene
Thermoset polyester
Hot-dip galvanized steel plate
Zn-Al-Mg plated steel plate
Acid resistance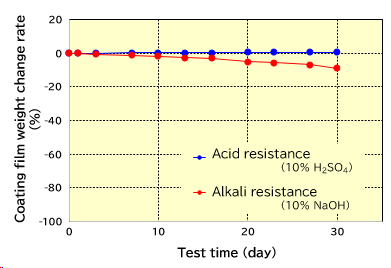 Weather resistance
Accelerated weathering test
Test equipment: Sunshine weather meter
Test time: 10,000 hours
Test conditions: Black panel temperature= 63 ± 3 ℃, under UV irradiation, 18 minutes fresh water spray during 120 minutes.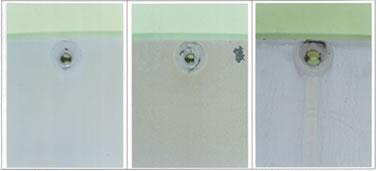 Coating procedure of NTT-AT's original rust preventive material paint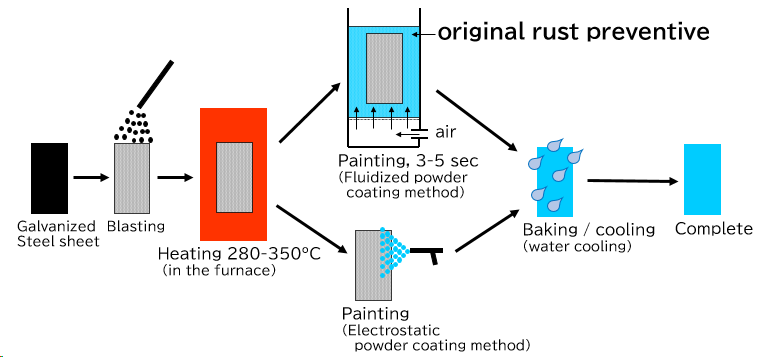 Applicable goods
Civil and construction fields

Steel sheet piles, steel frames, manholes, fences, handrails, etc.

Electrical / Telecommunication equipment field

steel-pipe columns, wire suspension tools, steel towers, distribution/ switch boards, transformers, etc.

Road related field

Guard rails, guard fences, guard pipes, balustrades, illumination poles, etc.

Steel structure related field

Bridge components, tunnel components, marine components, etc.

Water treatment field

Water supply and distribution pipes, pump casings, valves, etc.
Hue
The following 3 colors are available.

"Dark brown" and "white" are made-to-order products.
Example of use for steel pipe columns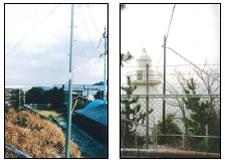 Application example
1. Hot spring region (gas corroded region)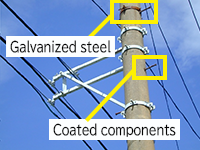 Metal parts for electric pole support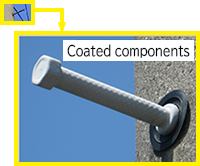 Electric pole scaffold bolt
2. Salt-damaged area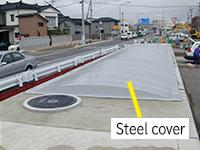 Steel cover for bridge attachments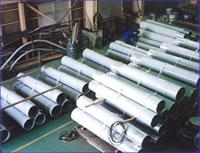 Lightweight assembled steel pipe columns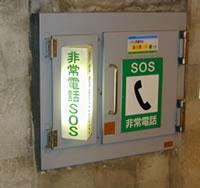 A storage box for emergency phones in a tunnel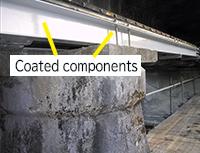 Bridge attachments
3. Ecofriendly color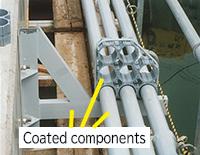 Cable accommodation pipes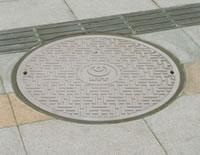 A colorized anti-slip manhole iron lid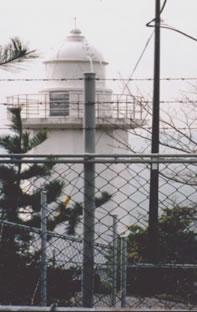 A steel pipe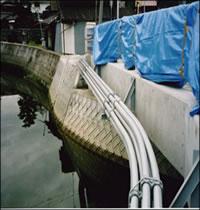 Bridge equipment
Frequently Asked Questions
Here you will find frequently asked questions about our original rust preventive material. Please refer them when selecting a product.
---