KTN Crystal

The optical crystal with the maximum erectro-opotic(EO) effects among existing materials.
High-speed optical control is possible by making use of the large electro-optic (EO) effect.
When applied to optical scanners, it allows movement tracking in a manner that has never been possible with conventional technology.
Features
By making use of the high EO effect (Kerr effect), it is possible to create a small-sized and high-speed optical scanner (optical polariscope), a vari-focal lens, or an efficient phase modulator (optical switch).
EO effect

S11~=3.0×10-15 m2/V2, ex:δn~0.003, *1
(>20 x that of lithium niobate)
[*1 Conditions: *εr=17500, 400 V/mm, wavelength 633nm as per our company findings (Maximum around Tc )]

Optical quality

Transparent between 488 nm and 3,500 nm, in which the ultra-high EO effects are expected.
Applications
Applications
Optical modulator
Various experiments application (chip, device)
Application example
KTN crystal chip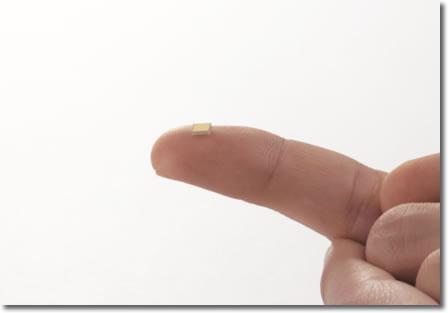 We customize the size and shape based on the design of the customer's device. Also, please consult us about the most appropriate electrodes and anti-reflective coatings, etc.
The product is available from stock in the following sizes at competitive prices.
| Size (mm) | Surface polish |
| --- | --- |
| 4.0×3.2×1.2 | 4-sided mirror polish |
| 5.0×5.0×1.0 | 2-sided mirror polish |
| 10×10×0.5 | 2-sided mirror polish |
Results
NTT-AT is able to produce KTN crystals of a practical size and quality, even though the KTN crystal fabrication process has been considered difficult.
NTT-AT provides such crystals widely by commercializing them based on the KTN crystal fabrication technology license.
If you are interested in small-sized and high-speed optical scanners (optical polariscopes), vari-focal lenses, efficient phase modulators, or optical switches, please refer to the webpage of KTN Deflector for vari-focal lenses or 200kHz OCT swept-wavelength light source.
Please feel free to contact us if you are interested in KTN crystals, for example, for research purposes.
Related Link
---