Vari-Focal Lens

The highest speed vari-focal lens in the world, with a focal length that can be varied in a matter of micro seconds.
Benefits
The world's highest level performance for focal-length shift.
The focal-length can be shifted in 1 micro second by supplying voltage to the KTN crystal. This speed is 100 times faster than that of a conventional vari-focal lens and it is the highest speed in the world.
A 3D image can be obtained
A 3D image can be obtained by changing the focal-length continuously or shifting it instantly.
---

Because vari-focal lenses that make use of PLZT piezoelectric characteristics contain lead, there is concern about the environmental impact at the time of disposal, and in the EU region, the restriction of the use of such lens by RoHS Directives is under discussion. Our product uses lead-free KTN material and is an environmentally friendly component. So you can use it without such concerns.

The focal-length shift performance
The KTN vari-focal lens works as a convex lens and the focal-length is varied in proportion to the square of the supplied voltage.
It has been confirmed that the vari-focal lens can be applied to various fields because a voltage of 1kV can result in a focal-length shift of 4cm in a lens with f=25cm.*
* Research paper about the lens (quoted from APPLIED OPTICS Vol. 51, No. 10 1 April 2012、APEX-4-022501)
Voltage vs Focal Point Shift Δf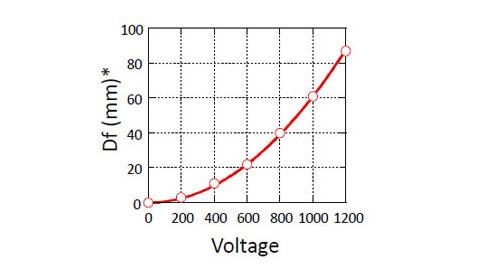 Time response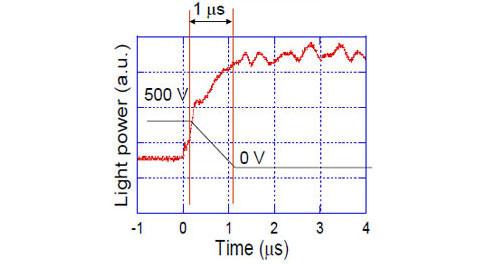 Specifications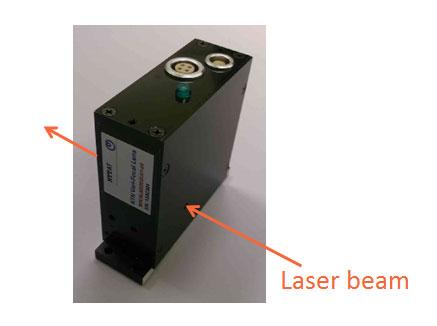 | | |
| --- | --- |
| Lens power | 0 - 0.5m-1 |
| Response frequency | DC - 10kHz |
| Wavelength | 488nm - 3500nm |
| Beam radius | 3 mmφ |
| Size | 97 mm x 85 mm x 32 mm |
Application examples
Biological microscope
Various types of experiments
Laser processing
In addition it can be used for 3D measurement devices because a high-speed 3D scanner can be implemented by using a combination of a KTN scanner and a KTN vari-focal lens with high-speed control.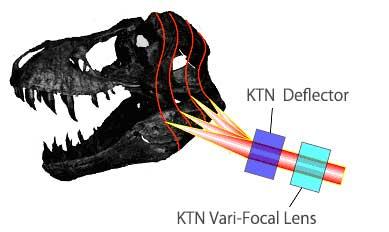 We can prototype a KTN Vari-Focal lens at your request.
Please feel free to contact us.

Related Link
---