MAX / WIZ Interferometers
3D Interferometer
Benefits / Features
The optical connector end face three dimensional shape measurement system MAX+/WIZ+ series is a noncontact high precision interference type shape evaluation device conforming to IEC international standard which can automatically measure the end face shape of single core / multi core connectors. Its compact housing makes it easy to handle, and it achieves speedy and highly accurate measurements, improving work quality at the optical connector manufacturing site.
The strong points of MAX / WIZ series
| | |
| --- | --- |
| | |
| MAX series | WIZ series |
Compact and Lightweight Housing
The housing enclosure has a compact design that can be installed in a smaller space than a B4 sized notebook, and weights less than 4 kg, so it is easy to carry.
Measurements Can be Made with a General Use PC
By simply installing the shapemeasurement software and driver so nageneral Windows PC , you can start measuring immediately.
Speedy Measurements with High Resolution Images
By adopting an optical system that realizes a wide viewing angle and a high resolution i mage s ensor, i is possible to evaluate the edge shape with high definition.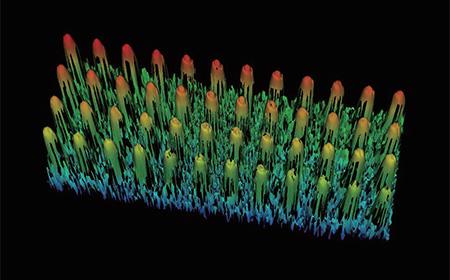 Many Types of Mounting Jigs
With a wide range of mounting fixtures available, not only standard optical connectors such as SC/LC/FC connectors, but also special optical connectors such as E2000 and MIL-ST can also be measured by simply exchanging mounts.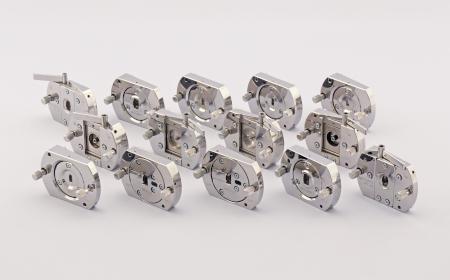 No Anti-vibration table required
Anti-vibration countermeasures are included so it can be used at any work site.
No settings
By the adoption of precision machined fixture, adjustment work is rarely necessary.
Features and Benefits of "MaxInspect"
Automatic Scratch Detection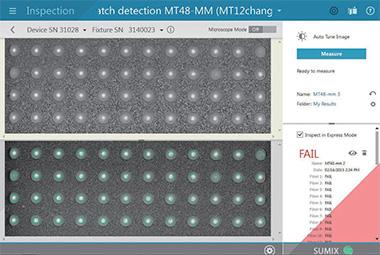 When measuring the end face shape, it captures the end face image of the optical connector, detects and evaluates scratches, dirt, chips, etc. by image analysis and makes an automatic pass / fail judgment. End face inspection and end surface shape measurement can be done simultaneously with one MAX+ series device, something which is two separate processes in conventional equipment. This also contributes to a reduction of the number of processes and time needed.

※ NOT available for MAX-QM+/WIZ-QS-110
Easy, modern, intuitive user interface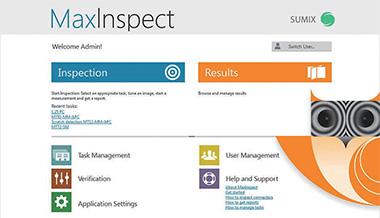 The icon interfece for each function allows for intuitive operation.The software is multi lingual. For Japanese and English version, NTT-AT 's own simple manual is also attached and there is no worry of getting lost even for the first time operation.
※ At installation, you can choose between the display languages of Japanese, English and Chinese.
Suitable Design for mass production
It is equipped with the ideal functions, such as display simplification (express mode) and measurement with a foot pedal switch, for quality inspection in mass production processes.
In addition, it is also possible to customize the operating environment according to the user, such as setting a special worker mode in which pass / fail judgment standard values cannot be changed, etc.

※ The foot pedal switch is optional equipment.
Wide Variety of Output Report Functions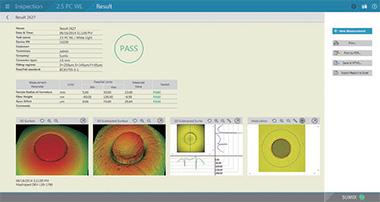 Output format is HTML, EXCEL and PDF. It is possible to output the calculated maximum, minimum, average and deviation value of each measurement data in summary form. You don't need to calculate the measured value.
Specifications / Details
MAX series for both Single and Multi-fiber Connectos
MAX+Series
Model
MAX-QM+
MAX-Quantum
Measurement Time
(per a ferrule / connector)
1 sec. (Single Fiber)
3 sec. (MT12)

1.4 sec. (Single Fiber)

7 sec. (MT12)

Optical Resolution (μm)
2.2
1.47
Field of view (mm)
5.6 × 3.5
6.0 × 4.4
End Face Inspection Function
(Automatic Scratch detection)
-
OK
Autofocus
OK
OK
Illuminator
External Interface

USB3.0

× 2 (for communication and power supply)
DC plug

× 1

(for

power supply)

Weight (kg)
3.8
4.8
Dimensions (H×W×L; mm)

103 × 137

× 183

181 × 213

× 117
MAX / WIZ series for Single -fiber Connectos
MAX+ Series
WIZ+ Series
Model
MAX-QS+
WIZ-QS-110
Measurement Time
(per a ferrule / connector)
2 sec. (Single Fiber/PC)

1.8 sec. (Single Fiber/PC)

Optical Resolution (μm)
1.1
2.5
Field of view (mm)
1.1× 0.9
1.2×0.9

End Face Inspection Function

(Automatic Scratch detection)

OK

-

Autofocus
OK
OK
Illuminator
Green LED (530 nm)
External Interface

USB3.0 × 2 (for communication and power supply)

DC plug × 1 (for power supply)

Weight (kg)
3.9
Dimensions (H×W×L; mm)
103 × 137 × 183
150 × 120 × 90
Recommended operating environment of MAX/WIZ series
Operating System

Processor

(Recommended Performance)

Memory
Interface
Software
Windows 10

Intel Core i5/i7

(Intel Core i7 Recommended)

4GB and over

USB3.0

Microsoft Excel® 2010 or higher
---