November 1, 2017
NTT Advanced Technology and NTT Communications (China), Start Collaboration for Expanding Services to Global Markets
NTT Advanced Technology Corporation
NTT Advanced Technology Corporation (hereinafter NTT-AT, head office: Kawasaki city, Kanagawa prefecture, President and CEO: George Kimura) and NTT Communications (China) (hereinafter, NTT Com China) are pleased to announce that, as of November 1, 2017, they have entered into a basic agreement to begin collaboration on system monitoring and maintenance services.

Through this collaboration, NTT-AT's advanced maintenance and operation expertise cultivated over many years of large-scale system maintenance and operation, and NTT Com China's multilingual support in Japanese, Chinese and English, and its IT service management are combined, taking advantage of the strengths of both sides to form the basis for responding to the needs of diverse global markets through primary and secondary system maintenance.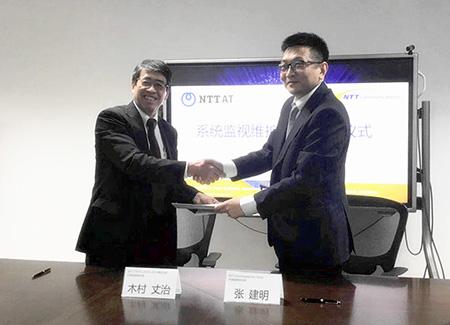 Background
Currently, many Japanese companies are advancing the development of services in the global market, and the need for a global response for systems maintenance and operation is increasing year by year. ICT (Information and Communication Technology) for ensuring the reliability and continuity of maintenance operations 24 hours a day, 365 days a year, is now indispensable for mission-critical operations of a wide variety of companies.

In this situation, based on the advanced technical strength it has cultivated as a member of the NTT Group, NTT-AT has been responding to the diverse corporate needs in the ICT era, accompanying the recent expansion of cloud business and heightened security monitoring needs to develop consistent systems from system development, system construction and maintenance operations, to data center/ cloud (ICT–24 cloud) and SOC (Security Operation Center) development. NTT Com China was established in October 2004 as a wholly-owned subsidiary of NTT Communications in order to provide IT solutions business for global companies, including Japanese companies operating in China. Based on the global IT strategy of our global headquarters, they provide optimum solutions based on the current situation in China and provide a high level of quality service with strong human resources.

In this business environment, both NTT and NTT Com China, as members of the same NTT Group, have started collaboration, utilizing each other's strengths and abundant achievement records in the fields of monitoring and maintenance with the aim of expanding into the global market.
The Aim of Collaboration
NTT-AT has been operating the "ICT-24 Operation Center" which provides total maintenance and operation support 24 hours a day, 365 days a year, from network to application maintenance since March, 2008. They have engineers with specialized skills and a performance record of nationwide carrier serviced, etc., to provide advanced maintenance services.

Since April of 2006, NTT Com China has been providing system monitoring and maintenance services 24 hours a day 365 days, providing high quality maintenance services based on introducing multilingual support in Japanese, Chinese and English languages as well as IT service management. In order to meet diverse corporate needs, NTT Com China responds with the famous Japan quality, and they have experience in handling over 1,000 Japanese companies and affiliates so far.

At this time, we are taking advantage of NTT-AT's advanced expertise in the fields of network, security and cloud services, and NTT Com China's multi-lingual globalization in Japanese, Chinese and English, to provide a collaboration that utilizes these strengths to provide high quality services that respond to the needs of diverse global markets through primary and secondary system maintenance in the operation of IT services.

This collaboration between the two companies will both strengthen the structure for global expansion of NTT-AT, which has been widely offering products and services based on the state-of-the-art technology of NTT Laboratories, while also leading to the development of new customers for NTT Com China, matching the needs of both companies.
Description of the Collaboration
NTT-AT will be the contact point while remote monitoring and maintenance work will be carried out at NTT Com China. Contacts by e-mail, emergency telephone contacts, reporting etc. will be responded to in Japanese. (It is also possible to get responses in Chinese or English according to the needs of the customers.)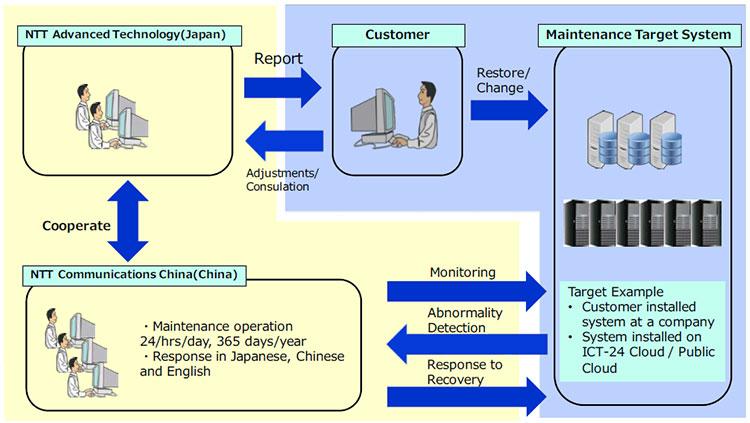 Global Collaboration Maintenance Menu
Service Item
Work Details
One way reception desk (call center)
Responds to customer inquiries about system operation status, and various kinds of communication to customers in case of abnormality and breakdown are conducted in 3 languages, Japanese, Chinese, and English *.
(* During NTT Com China's Reception Desk Operating hours)
System Monitoring
Quick discovery of failures through regular Ping monitoring, SNMP monitoring, etc. System operation status and performance monitoring.
Security Monitoring
Monitors alerts from security devices such as IDS / IPS, WAF, and anti-virus measures. Advanced experts in Japan implement secondary response according to circumstances.
Incident Response
Identifies the fault location when abnormality or failure occurs, and promptly responds to recovery.
Problem Maintenance
Uses failure statistics in order to prevent failure beforehand, investigate and report on causes such as repeatedly occurring failures in the same equipment.
Reporting
Reports on related incidents and system performance and reports on operational situations by regular meetings.
Configuration Management
Implementation of physical configuration, logical configuration, collective management of system settings information, history of changes, maintenance, etc. of customer's IT information system.
*NTT-AT will continue to offer existing domestic maintenance service menu as usual.

Next Steps in Deployment
Through this collaboration, NTT-AT and NTT Com China aim to expand maintenance and operation service business, including both domestic as well as overseas (China), aiming for sales of 500 million yen by three years from now.

In the future, through cooperation between the main company in Japan and the branch in China, we will provide 24 hours a day, 365 days a year system monitoring and maintenance service, provide multilingual support services, security monitoring services for Chinese enterprises and for branch offices of Japanese companies in China, and provide advanced security response services from the Japanese side in order to expand services to meet the diverse needs of international markets. In addition, by expanding the collaboration between both companies, we will be able to expand sales of NTT-AT's products and services in the Chinese market, as well as maintenance support in China, etc., to expand our global services.
---
A Message from NTT Advanced Technology Corporation President and CEO George Kimura
NTT Advance Technology is focused on technologies that continue to innovate at a rapid pace, to quickly and flexibly respond to the challenges and needs faced by society and businesses, and even sometimes find problems and improvements before customers are even aware of the need. We promise our customers that we will make proposals and always aim for innovations to meet their needs.
At this time, NTT Com China and NTT-AT have established an expanded collaborative system of two companies that have proven records in monitoring and maintenance. With this expanded cooperation between the two companies, in addition to the maintenance operation and security monitoring services proved by NTT-AT based on our advanced skills, NTT Com China's strengths such as services in the three languages of Japanese, Chinese, and English are added in order to broaden the range of services and respond to the diverse needs of customers' globally.
Based on the experience that we have cultivated so far, while supporting the expansion of customers' business 'globally,' we will continue to take on new challenges.
A Message From NTT Communications (China) President of China Region Jianming Zhang
As a global ICT partner of Japanese companies and multinational corporations, NTT Com China has provided convenient and high-quality services and as a result has received high praise from customers. NTT Com China also has customer support centers (CSC), providing 24 hours a day, 365 days a year service in 3 languages of Japanese, Chinese, and English. We have been serving customers mainly in China, but our vision for the future is to proactively develop services in the global market.
Now concluding basic agreement between NTT - AT and NTT Com China has realized a new step in CSC 's group collaboration. We believe that we can develop new customers through collaboration with NTT-AT and will be able to offer even more convenient and high quality monitoring and maintenance services to our customers.
---
NTT Advanced Technology's Company Profile
Since its founding in 1976, NTT Advanced Technology has served as a technical core company of the NTT Group, with various advanced technologies such as NTT R & D's network technology, security technology, cloud technology, Japanese processing technology, and environmental technology, In addition to widely adopting advanced technologies outside the country. We integrate these technologies to solve customer problems and continue to provide added value for our customers.
| | |
| --- | --- |
| Company Name | NTT Advanced Technology Corporation |
| Capital | 5 billion Yen |
| Founding | December 17, 1976 |
| Head Office Location | Musa Kawasaki Central Tower 1310 Omiya Town Sokui-ku, Kawasaki-shi, Kanagawa Prefecture, Japan 212-0014 |
| CEO | President and CEO George Kimura |
| Business Content | Total solutions services / Security services / Cloud and IoT services / Global services / Intellectual property services |
| Web site | https://www.ntt-at.com/, http://www.ntt-at.com.cn/ |
NTT Communications (China) Company Profile
NTT Communications (China) was founded in October, 2004 and provides total ICT solutions such as network environment, security environment etc. to Japanese companies and multinational companies that are entering China. Since 2006, we have implemented 24 hour a day, 365 day a year security monitoring and IT management services for customers' centered on China in Japanese, Chinese, and English.
| | |
| --- | --- |
| Company Name | NTT Communications (China) |
| Investment structure | * 100% owned subsidiary of NTT Communications |
| Head office location | 8/F, Carlton Building, No.21 Huanghe Road, Huangpu District, Shanghai,200003, China |
| CEO | President of China Region Jianming Zhang |
| Business Content | Solutions services / Data Center services / Customer Support services |
| Web site | http://www.cn.ntt.com/ |