Nanoimprint Mold

NTT-AT can accommodate a range of needs for Nanoprint Molds, from a fine 20nm pattern for next generation lithography to the order of X μm for bio-MEMS.
Benefits
The applications of Nanoimprint technology are accelerating in various fields. NTT-AT provides the required Nanoimprint Molds for various stages in research, development, application, and commercialization.

The fields of application of Nanoimprint Molds are generally categorized into 3 areas: molds for optics, molds for semiconductors and molds for other applications.
Features
1.Mold For Optics
We fabricate the patterns for micro lenses, holograms, moth eyes, and diffraction gratings using the fine processing technology based on a semiconductor process.
Process examples
phere pattern (micro lens)

The pattern for materials of Si substrates,
quartz substrates, Ni electroforming, etc.

Almost 100% filling factor can be achieved
by whole area covering with the sphere.

The lens pitch is available in a wide range from a few microns to 250 microns

Multilevel pattern

A reflection type and a projection type are available.

The pattern is for materials of Si substrate, quartz substrate, etc

Pixel size: from 250nm

Digitalized to 4 levels or 8 levels

Conic pattern
(moth-eye structure)

Substrate materials: Si and Ni electroforming

Pattern range: from 50mm

Pitch: 200nm-500nm

Depth: 100nm-500nm

V-thread type and phrase type
1 micron pitch V-thread

Substrate: Silicon
Pattern pitch: from 100nm
Depth: 50nm
2.Molds For Semiconductor
NTT-AT will support customer's NIL (Nano Imprint Lithography) technology development using a fine pattern NIL, in the order of 20nm, which is expected to be the next generation lithography technology for semiconductors.
Quartz mold with highly accurate patterns
70nm in diameter
Large space above 10μm
Process examples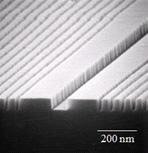 SiO2/Si Mold
The uniformity of depth doesn't depend on pattern size.
3.Mold For others
The fine pattern formation technology of Nano Imprint is expected to be applied in various fields.
In addition to processes for various materials including quartz and silicon, fine dot patterns, high aspect ratio patterns, and deep etching pattern formation and processing are provided to satisfy customers' demands. Standard patterns (line width 40, 60, 80 and 100nm, with 100nm depth) are also available, to evaluate system and resin characteristics such as transfer printing accuracy and release properties.
Process examples
Ultra fine pattern
36nm pitch dots

Substrate: quartz, silicon, SiO2/Si, Ni and SiC
Minimum pattern pitch: about 35nm
Depth: from 20nm
Patterns: L&S, dots, holes and rings

High aspect ratio pattern
Aspect ratio 1.0

Substrate: silicon
Pattern pitch: from 50nm
Depth: from 100nm
Patterns: lines and L&S

Deep etching pattern
Column pattern with 40μm height

Substrate: quartz
Depth: up to 100nm
Catalog
| | |
| --- | --- |
| | |
| Pattern layout | SEM image |
【Specification】
Substrate
Material
Quartz
Size
10mm square
thickness
1mm
Pattern
atterned area
7mm square
Type
L&S (Patterned area: concave/Edge: convex)
Line width
45 , 60 , 80 , 100nm
Duty ratio
1:1 , 1:5
Depth
100nm
Past record
NTT-AT has supplied a Nanoimprint Mold for more than 20 years, applying semiconductor fine process technology.
We have sold this product to enterprises, universities and research institutes in various fields, such as next generation lithography, optical fibers, biotechnology and medical applications.
---