Optical connector characteristics measuring instrument AR-10
Simple, compact, and low cost Ideal for optical connector production lines!
NTT Advanced Technology Corporation discontinued AR-10. The repair/calibration service will continue until March 31, 2029.
Benefits / Features
Measure both return loss and insertion loss with one machine
Covers all typical connectors such as SC, FC, LC, MU, etc.
2 wavelength compatibility (1310 nm,1550 nm)
Functions for sending measurement data to a PC
Designed with workability in mind, making it ideal for production lines
Measure the amount of optical connector return loss and insertion loss with just one machine
The devices required for measuring the amount or reflection attenuation and the amount of insertion loss are built in, so with one machine simultaneous measurement by 2 wavelengths* of both characteristics is possible. (*1310nm, 1550nm)

Also, because it was designed with the needs of production line work in mind, there is absolutely no need for any complicated setup and measurements can be done with easy operation.
Functions for Sending Measurement Data to a PC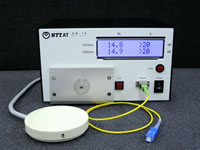 A universal switch which can transmit measurement data to a PC with one action is included as a standard feature.
Can be used as a hand-push switch or a foot switch to match the production process.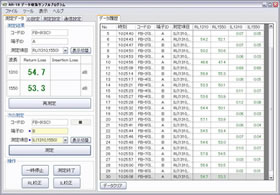 Sample Software Display Screen
In combination with the sample software provided, inspection records can be saved efficiently.
Moreover, using a communication port, data acquisition, operation, etc. can be done by remote control, and the customer is also able to create custom software.
Specifications
Measurement Items
Return Loss Attenuation, Insertion Loss
Measurement Wavelengths
1310 nm, 1550 nm
Measureable Connectors
SC,FC,MU,LC and APC connectors *1
Suitable Fiber
SM (9/125μm)
Measurement Range
~75 dB(RL), ~20 dB (IL)
Measurement Accuracy
RL ±0.5dB (≥60dB) *2
IL ±0.05dB (≥5.00dB),
±0.10dB (≥15.00dB),±0.20dB *3
External Interface
RS-232C (D-Sub9 pin)
Power
DC9V
Operating Temperature
0~40°C
*1: When measuring, the separate master cord corresponding to each connector is needed
*2: Using a straight PC polishing master cord and measuring within 1 min. after calibration
*3: With a room temperature of 25°C, using a master cord of the same type as the connector and measuring within 1 min. after calibration.

As this device is a measuring instrument using an optical branching coupler, it does not have spatial resolution. Therefore, in addition to the connection point of the master cord, measurements include the reflection in the subsequent optical transmission path, as well as reflection in the terminal part, etc.
---