Automatic extinction ratio measurement device PCA2000C
Automatic extinction ratio measurement device
A Polarization Crosstalk Analyzer / PCA2000C enables you to analyze INSTANTLY! the polarization state such as an extinction ratio and azimuth angles and observe in REAL TIME! See the results on the monitor.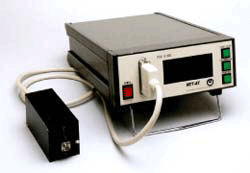 PCA2000C excels especially in monitoring and studying the polarization characteristics of various optical devices, and it is really convenient to use for in-site measurements of a polarization state.
Benefits / Features
Features
Extinction ratio (dB), principle axis angle and elliplicity angle are displayed in real time.
Extinction ratios of a laser beam propagating in free space and the beam issuing from a fiber can be measured easily.
Connection through RS-232C increases efficiency and allows automatic measurement.
Specifications / Details
Specifications
Specification (typical values)
| | |
| --- | --- |
| Measurable wavelengths | Bandwidths of 550 nm - 720 nm, 700 nm - 900 nm, or 1250 nm - 1550 nm |
| Angular accuracy | ± 1 ° |
| Extinction ratio | 30dB |
| Extinction ratio accuracy | ± 1dB |
| Incident light power | 5 or more on the main unit level meter |
| Measurement time | Approx. 1 sec. |
| Measurement light | The beam propagating in free space or the beam from a fiber connector |
| Dimension | 240W × 90H × 340D (mm) (excluding projections) |
| Weight | Approx. 2.5 kg (including head) |
---