WinActor - Product infomation
Introducing Robotic Process Automation Software
The RPA*Software automates computer tasks. Various repetitive input tasks can be automated by recording them and creating scenarios, including database entry/revision and input tasks for order taking, as well as data conversion.
*RPA:Robotic Process Automation
Think a task has to be done manually? Think again.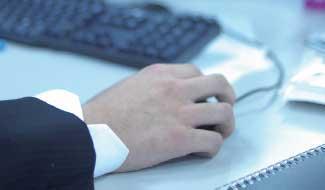 Examples of automatable tasks
Automatic generation of job orders for construction work
Data entry automation for order-taking system
Automatic addressing of direct mail
Billing that involves customer-specific discounts
Impressive results
Slashed from 8 hours to 10 minutes!
For input in an order-taking system, a workflow now takes 1/50th the time: order reception → list generation → system input → shipping arrangements.
Slashed from 40 to 10 man-hours per day and error rates reduced from 0.3% to 0.0%!
For billing that involves client-specific discounts, input was automated in a workflow involving visual confirmation to apply discounts. The work now takes 1/4 the time and reduces the number of people required from five to two.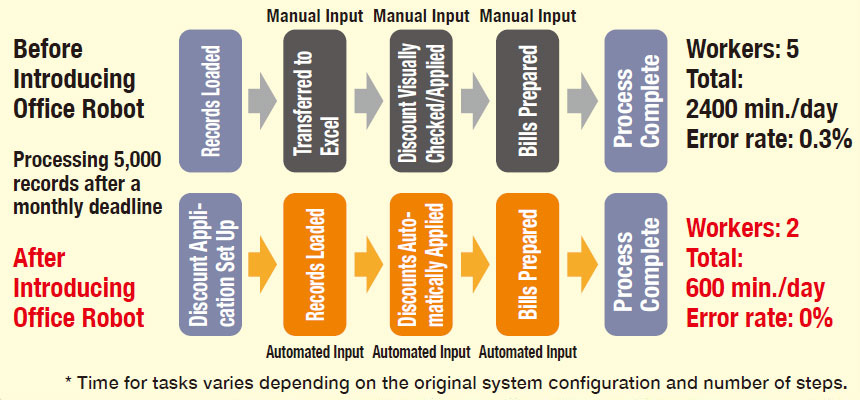 Example when used in billing with customer-specific discounts
Contact us/Request more information

Demonstration Videos
Overview/Advantages
Quickly repeats tasks of expert workers after recording them
Simply record a computer task performed by an expert worker, then execute the process again as needed. Robotic Process Automation Software accurately reproduces their work. High volumes of work can be done in less time, streamlining production dramatically.
Convenient-simply choose a scenario
Can be used with data in various formats. Just create a scenario for your data, then select the scenario you need. Scenarios are also easy to revise, with no special programming knowledge required.
Reduces errors that occur in simple work
Since it makes it possible to automate selection of data destinations and the data entered, based on source data information, Robotic Process Automation Software easily adapts to a range of data entry work while eliminating the input errors that are unavoidable with manual input.
Contact us/Request more information

Specifications
WinActor® (OR-5000 series)
| | |
| --- | --- |
| OS | Windows 7 SP1 (en), Windows 8.1 (en), Windows 10 (en) |
| Compatible software | Microsoft Office 2010, 2013, 2016 |
| Compatible browsers | Internet Explorer 11 |
| Recommended CPU | x86 bit or x64 bit with 2.5GHz or higher |
| Storage | 3GB of free space or more |
| Memory | 2GB or more |
| Monitor | 1024×768 or higher resolution |
*Note: Above is the basic system requirement for WinActor rev.5.3.1
Pricing
Please contact us for details.

Download Brochure
| | | |
| --- | --- | --- |
| Robotic Process Automation Software brochure | 811KB | Download |
---