April 3, 2018
Sales Launch of "NEOCLEAN-EZv" cleaner for optical connectors for broadcasting / video
-Even more convenient than the "NEOCLEAN-EZ" cleaner for 2.0 mm ferrule optical connectors-
NTT Advanced Technology Corporation
NTT Advanced Technology Corp. (hereafter, NTT-AT, head office: Kawasaki city, Kanagawa Prefecture, President: George Kimura) announces the newest member to the NEOCLEAN series of push type cleaners for communication optical connectors such as SC, LC and MPO connectors. Sales of the "NEOCLEAN-EZv" cleaner dedicated to broadcast and video connectors (such as SMPTE 304 M) used in high definition video cameras, will begin from May 10, 2018 (Thursday).

The "NEOCLEAN series" are compact size tools that delivers more than 400 cleanings. It's specially developed fiber eliminates dirt by a simple push operation without damaging the end face of the optical fiber. The new "NEOCLEAN-EZv" is developed exclusively for broadcasting and video connectors, which allows an easy cleaning without troublesome work such as attaching and detaching the split sleeve inside the connector.
Background
In recent years, high-speed and large-capacity transmission using optical fibers has been established not only in communications but in the field of broadcasting for super high definition 4K and 8K broadcasting. In addition, higher reliability is required for network equipment. One of the major reasons for impaired reliability are dirt on the end face of the optical connector, and an optical connector cleaner that can easily remove dirt in order to guarantee reliability is an essential cleaning tool.

Overview of the "NEOCLEAN-EZv"
As a pioneer of optical connector cleaners based on the technology of NTT Laboratories, NTT-AT has been offering an extensive product line in response to customers' needs for many years.

"NEOCLEAN-EZv" is a cleaner for cleaning broadcasting and video connectors that are becoming widely used in TV cameras and broadcast systems. The connectors are being standardized by industry groups in order to provide high-definition and high-speed image transmission.

Compared to the connectors in the communications field, the connectors used for broadcasting system are used outdoors and gets removed numerous times. Therefore, dirt easily adheres due to the environment so it is important to remove any contaminations to improve the transmission quality.

"NEOCLEAN-EZv" is a specialized product for broadcasting and video connectors and an indispensable cleaning tool for high-definition video equipment workers. Contamination on the end face of the optical connector can be easily cleaned just by simply pushing the cleaner tip into the optical connector without any removal of the sleeves. The cleaner is compact enough that it fits comfortably into the breast pocket makes it very convenient to carry to any work site.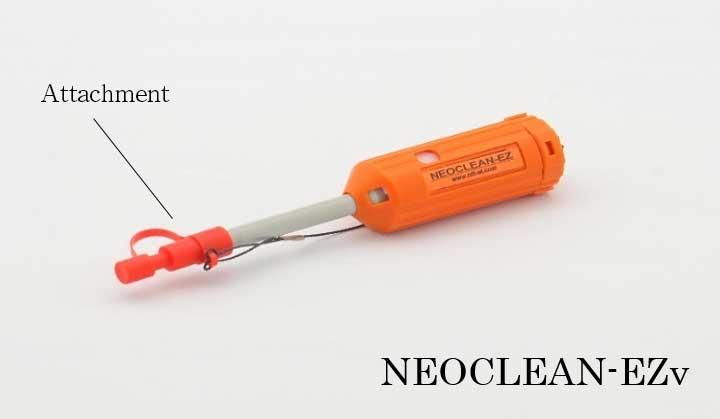 Features of "NEOCLEAN-EZv"
| | |
| --- | --- |
| Compact Design | Body length of 109 mm, 121 mm even with an attachment |
| Highly Effective | Built-in specialized fiber eliminates dirt with a simple push operation without damaging the delicate core of the optical fiber. |
| Simple Operation | Just inserting the tip into the connector and push it. No special skill is required. No need to remove the split sleeve. |
"NEOCLEAN-EZv" Specifications
Compatible Connectors
Broadcast Connectors: φ2.0mm ferrule connectors
(SMPTE 304M standard connectors, OPS series, OC series, FC series, etc.)
# of uses
More than 400 times
Length (mm)
109 (with attachment:121)
Cleaning conditions
Method of Sales
Sold through optical connector cleaner sales distributors
Price
Standard price: 4,800 yen(not including tax)
Notes: Connector Cleaning Examples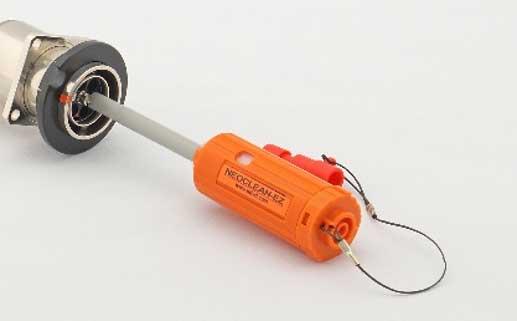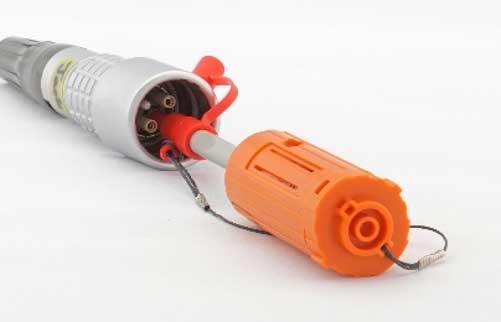 ---
* "NEOCLEAN" is a registered trademark of NTT Advanced Technology Corporation.
---
For inquiries related to this
NTT Advanced Technology Corporation
Global Sales Section
Optical Products Unit
---